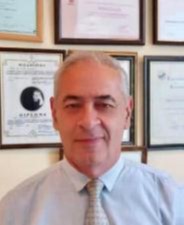 Chronic Pain Intensity and Quality of Life in Palliative Patients
Abstract
Introduction:
1/5 of patients with malignant tumors require palliative care. This type of assistance is aimed at improving the quality of life for incurable patients and their family members. Chronic and recurrent pain, viewed as diseases in their own right pose a specific healthcare burden, in general, and specifically, in palliative care settings. Research evidence has been accumulating on wide range of chronic pain prevalence, severe  chronic pain not only across countries, but also by patients' population, their age, gender, race and ethnicity.
Aim: We aimed to study pain prevalence, intensity and quality of life (QoL) in homogeneous palliative patients served in different environments: either in tertiary hospital or at home.
Methods: A cross-sectional survey was conducted during 2014-2017. Two groups of patients were selected randomly; the first group was presented by palliative inpatients and the other with 40 oncoincurable patients being on home care. McGill pain questionnaire and the SF-36 Questionnaire were used. Data was processed for statistical significance.
Results and Discussions: Response rate on the McGill pain questionnaire was 81% and on SF-36 questionnaire -79%. The majority of patients from both groups suffered from chronic pain for more than 5 years. 37,6% of inpatients suffered with depression, that was more common in patients of ECOG 4 then in ECOG 3. Depression was relatively less in patients being on home care (26,8%) in contrast to hospitalized patients, t=3,2.
93.3% of the inpatients suffered from severe pain upon admission to clinic and over 40.0% - during the past 5 years and more. Due to unrelieved pain every fourth patient, being on home care had to refer to family physician 2-3 times per year.
Pain intensity scores ranged from 65 to 78. Chronic pain had a serious impact on QoL in both groups of patients, in particular on work ability, everyday activity (r
s
=-0.593 p=0.005), and sleep (r
s
=-0.393 p=0.001), however it did not correlate with social attitudes and eating habits of patients being on home care.
Conclusions:
1.
Palliative patients suffered with severe chronic pain; 2. No statistical difference was determined in pain intensity among the study groups, however patients, being on home care had higher QoL compared to inpatients; 3. Depression and
pain catastrophizing
dominated among inpatients and correlated with the longevity of stay in the hospital.Keywords: Chronic pain, Quality of life, Palliative care
References
- 2nd International Symposium on Palliative Care
Refbacks
There are currently no refbacks.
ISSN: 2346-8491 (online)